James Reinhart spent months trying to get somebody, anybody, to invest in his idea: an online clothing exchange for women and kids.
He would rent a Zipcar and drive out to Boston's Route 128, a venture capital hot spot, with his pitch deck in hand. Then he'd fly to San Francisco to navigate Sand Hill's labyrinth of venture firms.
The VCs shot him down 27 times, some of them laughing in his face. At one meeting, one of the firm's partners asked if the idea was to have women swap their panties. Reinhart, then a 30-year-old recent Harvard Business School graduate, shrugged it off.
"I was just like, whatever, dude," said Reinhart. "If that's where your mind is at, we're clearly not going to do a deal."
That was six years ago. Last month, Reinhart's secondhand fashion marketplace, ThredUp, raised an $81 million round of financing led by Goldman Sachs, bringing its total funding to more than $131 million.
ThredUp isn't an outlier. There's a war brewing over the junk in people's closets, as investors funnel cash into the online clothing resale business, backing more than a dozen companies, each looking to capitalize on what they see as a weak spot for Amazon and even for resale leader eBay.
Venture capital firms poured hundreds of millions of dollars into fashion resale in 2015; total funding over the past five years has blown past the $400 million mark. In January, online consignment shop Tradesy raised $30 million. By the end of April, vintage luxury reseller RealReal had raised $40 million and social commerce site Poshmark had taken in $25 million. European resale shop Vestiaire Collective scored a $37 million round in September. Then came Goldman's monster round for ThredUp, perhaps the most mainstream of the bunch.
"It's a category that's very much winner-take-all," said Reinhart. "VCs know that if they pick the winner, it'll have a long-term sustainable advantage."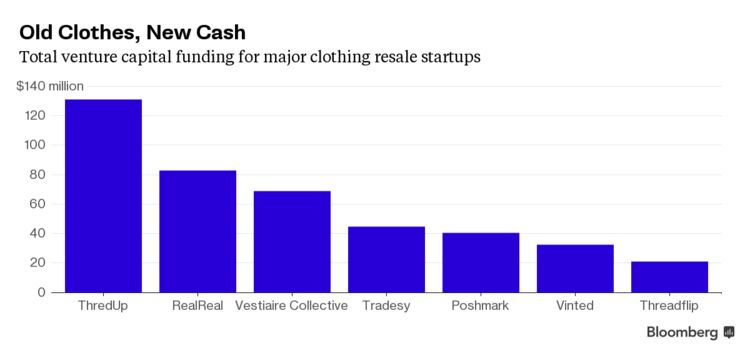 The list goes on. There's Vinted, a Lithuania-based clothing swapper. Threadflip's full-service consignment marketplace aims for the fashionista with little time. Rebagg deals only in designer handbags. Shop Hers is all about luxury. Vaunte touts the closets of fashion insiders. Snobswap partners with offline stores. Refashioner strives to curate unique items. Material Wrld trades gift cards for unwanted clothes.
They're attracting all the investor interest because each company is trying to fill a void left by the big online retail incumbents. Though Amazon is deeply entrenched in almost every product category in e-commerce, and eBay rules resale, many consider fashion their most vulnerable segment, whether new or used. Amazon and eBay thrive as near-boundless vending machines, where customers search for anything and everything. Fashion is built on meticulous curation.
eBay got into the fashion outlet business in 2011 and opened new branded online shops for designers in 2014. Then, in 2015, it bought Twice, a clothing flipper that had raised $23 million, and folded the startup's employees and technology into its own teams. There's also eBay Valet, a consignment service that doesn't require the traditional self-listing the site requires. Despite the many new entrants, eBay remains the resale industry's leader by size and selection, and has been expanding its category pages and its app to make them easier to peruse rather than search.
"For fashion, it's really critical for us to show consumers all the inventory we have," said Marcelle Parrish, general manager of fashion at eBay.
Amazon entered the apparel market in 2002, then acquired fashion merchant Shopbop in 2006 and shoe seller Zappos in 2009. It also has its banner Amazon Fashion shop, East Dane, and MyHabit. In the 2013 book The Everything Store: Jeff Bezos and the Age of Amazon, CEO Bezos is quoted as frequently saying, "In order to be a two-hundred-billion-dollar company, we've got to learn how to sell clothes and food." Amazon didn't respond to a request for comment.
"Fashion might be the only category where Amazon has failed quite spectacularly," said Josh Goldman, a general partner at Norwest Venture Partners and an investor in Threadflip, adding that it's for the same reasons eBay hasn't been able to snuff out the resell upstarts. A simple search-and-listing site is "just not the right place to browse and purchase fashion," he said.
Maybe. But for the startups, there's a looming danger that Amazon could yet crack the code. According to a note from analysts at Cowen and Company, Amazon has been ramping up its apparel business over the past year, posing a threat to such mass market retailers as Wal-Mart and Target. If all goes well for Amazon, it could even surpass Macy's as the top U.S. apparel seller in the next few years, the analysts predicted.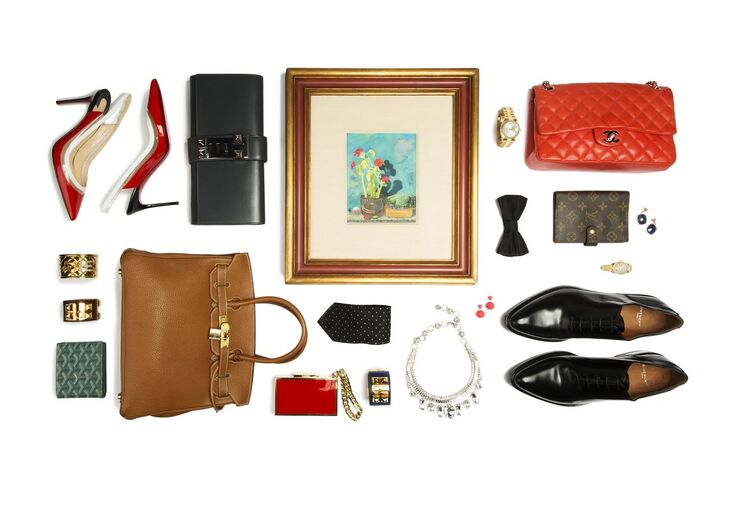 If the startups, for their part, prove different enough from the traditional e-commerce experience, they could prevail in the end. Each of the contenders in this bustling space is banking on a trend toward shared wardrobes, as people become more willing and able to refresh their closets by flipping used clothing, using subscription services, or renting fashion items to keep their outfits up to date.
It will probably all come down to how well each company carries out its strategy, since the combatants aren't attempting a fundamentally new business model, but tweaking proven methods such as consignment stores and peer-to-peer marketplaces. And though some are separated by price, most largely sell the same kinds of brands, whether from luxury fashion houses like Alexander McQueen or from trendy but cheaper labels like J.Crew. As a result, none have yet been able to break free from the pack.
Some of the companies encourage users to send in bags of their superfluous clothes and let the company handle the rest, while others try to make it easier for people to photograph and list items themselves. With both methods, it's all about convenience and ease.
"This is an execution business," said Brian O'Malley, a partner at Accel Partners, a venture firm that has invested in Vinted. "They're all competing over that same closet space."
Investors and analysts agree that the competition is too stiff to ensure everyone's survival. The consolidation process has already begun. Bib + Tuck, a resale website funded by fashion entrepreneur Christopher Burch and others, has announced that it's shutting down after being sold to Crossroads, a national store chain. All buying, selling, and cashouts on the site have ended.
"I don't even know if there is going to be one winner," said Sucharita Mulpuru, an analyst at Forrester Research, "This model is never going to take over the world."